ALL IN 1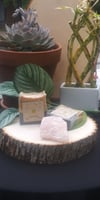 Ingredients : Olive oil, Water, Coconut oil, Lye, Shea butter, Lard, Aloe Vera, Coco butter, Activated Charcoal, Tea Tree , Honey & Turmeric
About: Here at KSLSOAPS every bar of soap is handcrafted to be gentle, extra moisturizing
and cleansing to the skin. you will love the
rich, creamy, bubbly lather of our
handcrafted soaps!
Weight:Approx 5.3 oz Please note that
all KSL Soaps are hand cut so actual
weight may vary slightly.
To Use: Keep your soaps in a dry, ventilated
area when not in use. By creating an ideal
environment, your soaps will last far longer.